I have admired Debbie Young's work with ALLi in the months I've been associated with this great organization for indies, and I'm honored that she is reading and thrilled that she is enjoying Rosette.
Just started reading @CindyRMarsch's "Rosette" last night and really enjoying it so far...

— Debbie Young (@DebbieYoungBN) April 13, 2016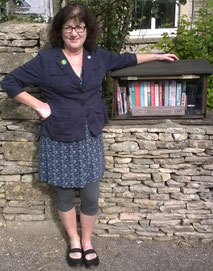 When she finished reading, Debbie posted a full review at her blog Debbie Young's Reading Life. Click on the link to read more.
Excerpts:
"Marsch has interspersed diary entries within the novel . . . but she also broadens the scope by writing from other characters' viewpoints, to create a vivid and absorbing picture of the life of pioneers as they build their own new town, society and country around them in former wilderness."
"Marsch's use of language is sublime. She echoes the phraseology of the time without sounding phoney, to the extent that the transcribed diary extracts blend seamlessly with Marsch's own text."
" . . . a fascinating and compelling historical novel which I highly recommend."